Our standard range of Encapsulated PCM Products
1) FlatICE Containers:
These containers are constructed of blow moulded HDPE and can be filled with positive or negative temperature PCMs, although high temperature PCMs may be unsuitable due to softening of the plastic. Each container holds approx 3 litres of PCM and due to their design they can be stacked on top of each other to achieve a large bulk volume of PCM for, e.g., building temperature control applications. When stacked there is a small gap between each container, allowing either air or water to flow easily over the containers while providing a large PCM surface area for heat transfer.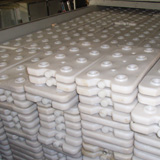 2) TubeICE:
These containers operate on a similar principle to the FlatICE containers, and are supplied as fully sealed PCM-filled HDPE tubes. The tubular design enables them to be stacked effectively in both rectangular and cylindrical tanks with minimal void space. Once installed, a series of ridges around the circumference of the tube mean that air or water can pass freely between the containers allowing excellent heat exchange properties.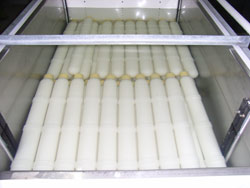 3) BoardICE:
The latest addition to this range is our revolutionary BoardICE product. This new technology utilises a natural fibre board as the encapsulation material, which is then infused with our A range organic PCM solutions. Once the infusion process has taken place the natural fibre board is then compressed into a solid board, whereby the final product can be loaded with as much as 70% PCM solution. The compression ensures optimum PCM coverage within the board, thus improving the thermal storage capacity.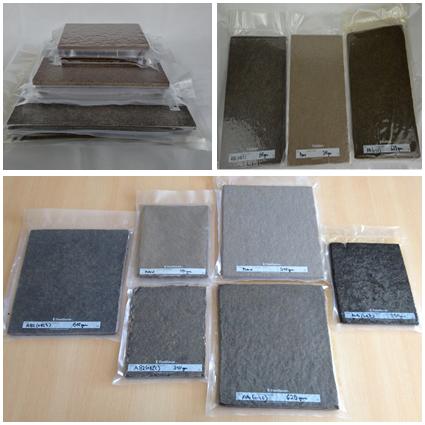 4) Eutectic Plates for Temperature Controlled Shipment:
This catalogue acts as an introductory guide to the methods of encapsulation available for our sub-zero eutectic PCMs, and their typical modes of application and uses.
Our standard Eutectic plates are in four sizes starting from 500mm x 250mm x 32mm down to small ice pack of 150mm x 80 mm x 30 mm can be filled any of our Eutectic solutions between -62C and +89C but any other dimensional shape, fitting and temperature requirements can be supplied as a custom-made product to gether with full application support.
Please consult our technical team for any special application you may have in mind.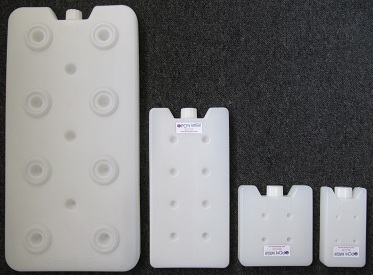 5) PCM Pouches:
The bulk of the range of our PCMs can be supplied prefilled in a wide variety of flexible metallic or non-metallic pouches, available in a number of different sizes for use in temperature critical transport applications. Alternatively, we can fill majority of our PlusICE range PCM solution in our customer's own pouches as well as develop custom-made sizes using special materials for a variety of temperature range applications.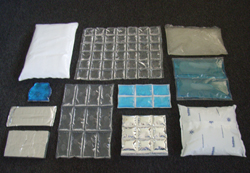 6) Transport Eutectic Plates:
A wide range of metallic eutectic plates manufactured by FIC (Italy) are available in a number of different sizes, and filled with several standard eutectic solutions to cover a multitude of conventional applications and operational temperature ranges. However, if any special application is required, we can fill them with any of our PlusICE PCM solutions to suit the application. Both standard carbon and stainless steel with or without a cooling coil fitted versions can be used with or without a refrigeration circuit.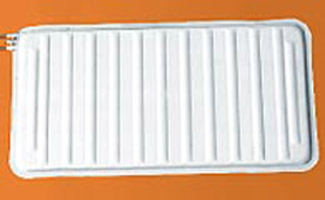 7) Hot / Cold Plates:
Phase coolers / heaters eases the transportation of food, hot and cold and are excellent for buffet displays. They are also hygienic and easy to clean, even washable in dishwasher. The slim aluminium profile only builds 15 mm in height. Ideal for buffet counters or during transportation. Three sizes 1/1, 1/2 and 1/4 GN filled with +4C cold or 82C hot PCM solutions.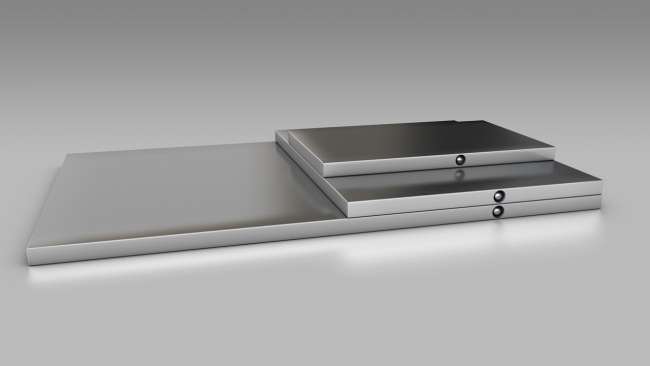 8) Passive Cooling:
A passive cooling energy storage application designed to work the natural difference between the cooler night and warmer day time ambient temperatures and by storing the cold energy over-night, the daily heat gains both internally and externally can be handled without any mechanical refrigeration, thereby providing maintenance free passive cooling system.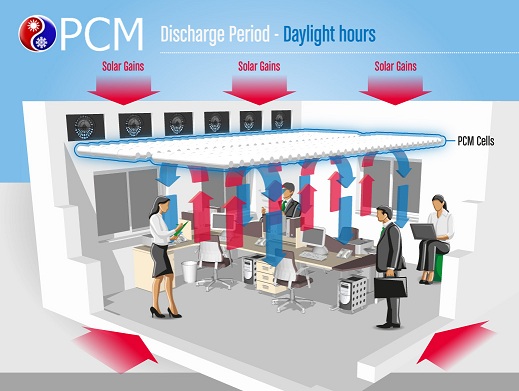 9) Ice Packs for Passive Cooling:
Majority of the modern control panels relies on electronic components which generates fair bit of heat, coupled with the solar / ambient gains quite often these sealed boxes end up over heating and if not controlled high temperarures result in either the control components cutting out or damaged. Storing night-time cool energy in PlusICE ice packs and utilising this stored energy during peak periods one can overcome the overheating simply using nature.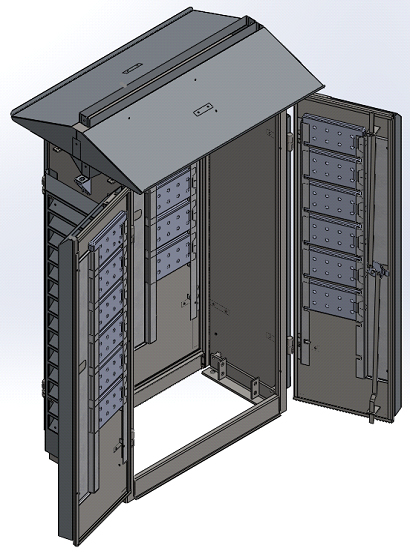 10) Cold Storage Load Shifting Cooling Modules:
By simply running the refrigeration over-night to store the cold energy in PlusICE beams / ice packs within the store, one can utilising a) Lower ambient which save 20~30% power consumption b) Possible lower electricity rates the overal cold store energy consumption and effectively annual running cost can be reduced as much as 30%. Moreover, static PCM storage provides a stand-by capability against any power or refrigeration failures and therefore peace of mind for the operators.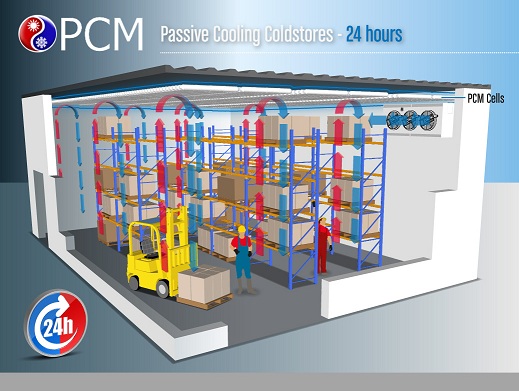 Custom-made Encapsulated PCM Products
Some of the encapsulation and PCM product ideas are as follows and for further information just click the pictures;